Cybersecurity
for Business
Data privacy is crucial for all business sizes





Cyber treats in organization has soared phenomenally. 
Therefore backup is crucial.
Cyber attack can cause tremendous financial lost to any businesses.
Increase of Malware attacks
Statistic extracted from various sources.
We take serious security measurements to ensure your data protected. 
Improve your firewall protection with better antivirus security.
Examine individual packets in isolation. As such, they are unaware of connection state and can only or deny packets based on individual packet headers.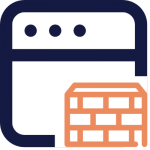 Analysing the data being transmitted, which allows network traffic to be matched against firewall rules that are specific to individual services or applications
Combination of traditional firewall technology with additional functionality, such as encrypted traffic inspection, intrusion prevention system, anti-virus.
GET A CYBERSECURITY
TO YOUR BUSINESS
ZEN-Y ICT SOLUTIONS
A-11-11 Pinnacle PJ,
Jalan Utara C,
46200 Petaling Jaya,
Selangor, Malaysia
© 2020 Zen-Y ICT Solutions. All rights reserved.